At NYFW, Alexandra Cassaniti Explains Her Love of Neoprene
In a Fashion Week full of surf-inspired looks that have never come in contact with salty air, designer Alexandra Cassaniti — in town from L.A. — radiates a certain action-sports street cred. Cassaniti's Summer Bummer label includes shore-battered tees made of flax and cheesecloth, amulets filled with compost, and neoprene apparel meant to be worn amphibiously. Everything's made in California. The overall effect? Cassaniti's pieces evoke artifacts of some rad, ancient beach tribe.
We met up Cassaniti, an Encinitas native, outside Lincoln Center days after she designed a window for bicoastal retailer Creatures of Comfort. Here, she talks about the appeal of neoprene (stand by for a killer bag with surf-leash features) and what happened after she, a longtime surfer, grew homesick for the Best Coast while living in N.Y. "My favorite breaks are still in North County San Diego," says Cassaniti, who found time to squeeze in a session off Montauk last week.
Above, Cassaniti also reveals the story behind her new sunglasses that feature mirrored Xs on the lenses and that are unlike any shades you'll find at the beach.


Related Stories on The Feast:
Male Call: Yigal Azrouël's One-Word Mandate for Men
Sin City: Neiman's Menswear Director's Top Craving

Shop Reels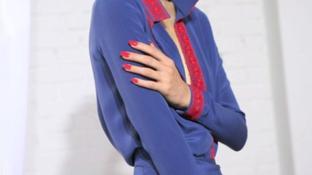 Connect with The Feast