17-Year-Old Edward Honaker Dresses 'Kind of Like an Old Man'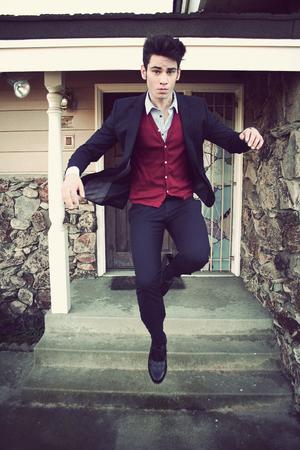 Introducing the newest member of our blogroll: Skinny Suits, written and curated by Edward Honaker, whose Lookbook.nu shots regularly receive heaps of love.

For us, Skinny Suits is a source of inspiration (by way of shots like this one), chuckles ("I recently purchased a pair of the classic Ray-Ban Wayfarers... I've been thinking of how to wear them without looking like a jerk"), and edification (see: a mini-lesson on straight laces).

We caught up with Honaker — who, at 17 years old, makes us feel like slouches — and got him to share where he shops, what he's scored and when he had his Come to Fashion moment.

So, what are you wearing in this shot?
In this photo I'm wearing a navy chalk stripe suit from H&M, which my mother expertly altered. I'm wearing a bengal striped shirt also from H&M, with red contrast buttons. And I have a red cardigan vest from American Apparel. My shoes are Florsheim wingtips I bought on Ebay.

What was your mood that day?
I was really tired, so I wanted to dress comfortably, but I also wanted to look formal, since I was going to church. I think the sweater and open collar brought down the seriousness of the suit without losing too much of the formality. And I didn't really comb my hair very neatly, as you can see!

Your personal style in a few words?
I dress kind of like an old man. But a very stylish old man.

Favorite shops in S.D.?
My two favorite stores are H&M and Marshalls. They're both affordable, which is what I like most about them! Also, American Apparel is great for basics. In a sense, it really doesn't matter where your clothes come from, but rather, how you put them together.
Locations, please...
My favorite Marshall's is the one on East H street in Chula Vista. It consistently has the best pieces. Although the La Jolla Marshalls seems to be the only one that gets the Ralph Lauren ties.

A thrilling piece you've scored lately?
I found this amazing Original Penguin v-neck sweater at the Burlington Coat Factory. It's green, but the chest has a houndstooth check pattern. I'm amazed at how well it fits. It's like they broke into my house when I was sleeping and took my measurements.

So, this bolo tie. Explain.
It's different; you don't see it very often around here. It gives a punch of western attitude to an otherwise normal outfit. They're also kind of nostalgic, since my grandfather always used to wear one.

How did your fashion odyssey begin?
I first got into fashion a few years ago when I looked at myself in the mirror and thought, "Man, I dress weird." At first I just wanted to present myself better, but then it kind of snowballed and I really became interested in style and the fashion industry.

Then one day, I was dressed in an especially nice outfit, and I thought to myself, "You know, to not share this fabulous outfit with the world would be criminal." So I had my sister take a picture of me, and I put it on Lookbook.nu, and it ended up being sort of popular.

When you're not blogging…?
I'm homeschooled, and am in twelfth grade, but I take extra classes at Southwestern College. I work as a host/busser at a local sushi restaurant. In my free time, I sleep. A lot. I also spend a lot of time at my church; I'm very involved there. Photography is another hobby of mine. In fact, I'm considering pursuing it as a career.

Shop Reels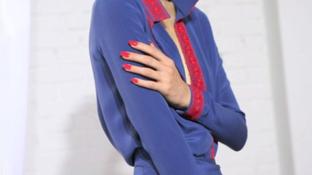 Connect with The Feast